Drain Relining and Patch Lining
Drain Relining and Patch Lining Services in Pembrokeshire, Carmarthenshire and Ceredigion
If, upon surveying your drainage system with our CCTV camera equipment, we find serious fractures, cracks and/or roots, you have two options: excavation or drain relining and patch lining. At West Wales Waste, we offer a reliable and cost-effective solution to repair your drain using drain relining and patch lining, which restores the structural integrity of your drain without the need to dig.
The Process
Before starting the process, we use root cutters and high-pressure water jetters to remove roots and debris, ensuring the drain is ready for our patch liner installation. Our highly skilled and experienced engineers then install the patch liner, which seals any cracks and fractures in the drain, restoring it to its original condition.
Why Choose West Wales Waste for Drain Relining and Patch Lining?
The services are cost-effective, efficient, and minimally disruptive, reducing the need for extensive excavation work. We use the latest technology and equipment to carry out repairs quickly and efficiently, minimizing disruption to your property.
Contact Us Today
If you need reliable and professional drain relining and patch lining services in West Wales, West Wales Waste is here to help. Contact us today to schedule an appointment or for more information on our services. Call us at 01646 629089 or send us an email at info@westwaleswaste.com.
Get your free quote now, with no obligation. Tell us what service you require, input your details and we will get back to you ASAP.
For the lining itself, we use an innovative and efficient process. Firstly, we cut out an area of fibreglass matting to fit the area we are patching. Once we have marked the position of the repair, we can connect our inflatable packer to a set of air rods. Secondly, we impregnate the fibreglass matting with a mix of silicate resin chemicals, and then fold and wrap it into position on the packer. We insert the patch into position, then check for any creasing or movement with our camera. Thirdly, to mould the patch to the inside of the pipe, we inflate the packer and leave it in place until the patch liner has cured. Finally, we remove the calibration hose and check the repaired drain using our CCTV cameras. 
How long will the repair last?
Our drain relining and patch lining materials are the best in the industry, and exceed WRc criteria. They provide a 50 year design life with a safety factor of 2, which effectively gives 100 years of life expectancy. All of our methods and materials are up-to-date, and carried out to Water Authority Standards.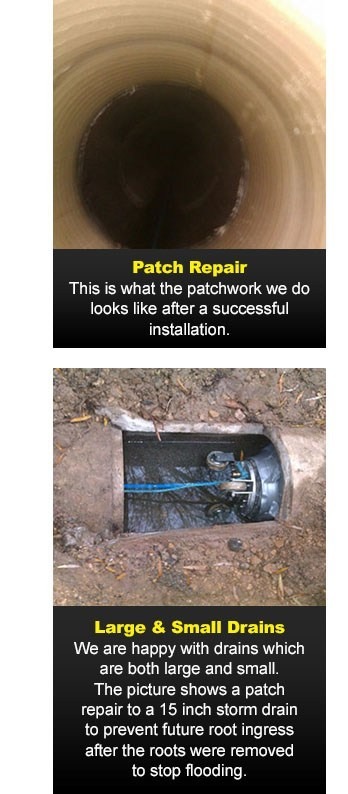 Message us to for Drain Relining and Patch Lining enquiries.
Complete the form below and we will be in contact to arrange an appointment.